Deserts
Meagan seeks to explore these places because of the challenge of surviving and thriving in such heat and dryness. The adaptations of the flora and fauna have made in order to live in hot/dry climate are fascinating.  Whether you are noticing the fossils, live critters, or even ancient sea shells, the desert is a place of wonder!
Banner filler text.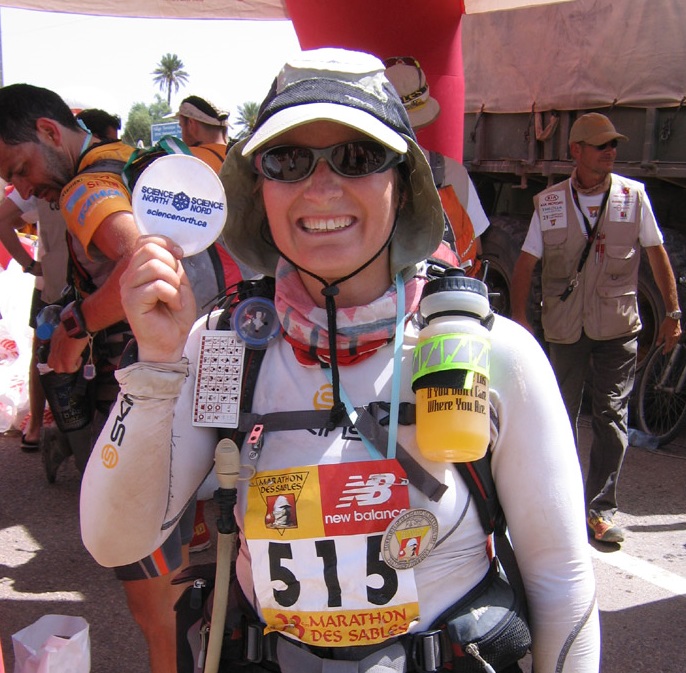 Marathon des Sables, Morocco
March/April 2008
The Marathon Des Sables ("Marathon Of the Sands") is a challenging running/trekking event, that takes place annually in the Moroccan portion of the Sahara Desert. Meagan covered 245.3km (in 6 sections: 31.6km, 38km, 40.5km, 75.5km, 42.2km, 17.5km) during 7 days – equivalent to 5 1/2 regular marathons, through the Sahara desert.
International participants, typically between ages 16 and 78, ran/trekked at a speed between 3 and 14 km an hour. All participants carried everything they needed for the duration (apart from a tent) on their backs in a backpack (food, clothes, medical kit, sleeping bag, etc). Water was rationed and handed out at each checkpoint, and during the morning/night (Bivouac areas), by the organizers.
Meagan had to prepare and manage her food resources (freeze-dried, energy bars, etc) throughout the race. The minimum calorie intake was strictly controlled by the event organizers, and was required to be a minimum of 2000 calories/day. The Sahara desert (Morocco) temperatures for this extreme event rose to mid-day temperatures up to 120°F (48°C). And she ran and walked on uneven rocky, stony ground, and sand dunes!
Meagan endured extreme heat, long distances, and monotony. Fortunately, she did not suffer from severe rubbing of the feet (blisters) or severe injury (ill prepared, improper equipment, or shoes). This extreme challenge was both physical and mental, where all of a person's energy was required to complete the event. Because the event lasted 7 days, it required very strong determination and the will to push oneself beyond the monotony. Meagan McGrath completed this extreme event and was a great representative for both Canada and her selected sponsors.
Some numbers – Meagan placed:
3rd Canadian Woman
4th Canadian
24th Woman – Marathon des Sables
287th out of 802 participants Overall – Marathon des Sables